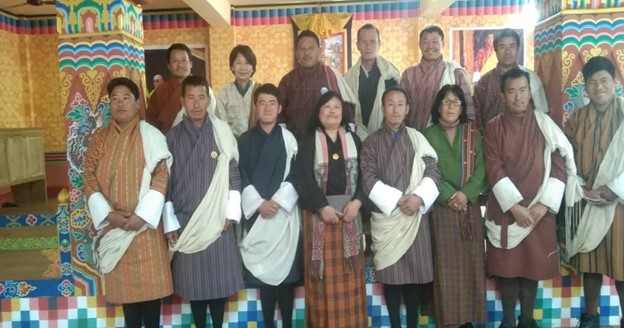 Background
9th to 16th January 2022: In continuation of on-farm crop diversity inventory on 7th January and germplasm collection at Kengkhar from 8th to 12th January, and as a part of the regular germplasm collection program of the Genebank, the National Biodiversity Centre in collaboration with Gewog Agriculture Sector of Phongmed Gewog, Trashigang Dzongkhag conducted Crop Diversity Inventory on the 9th January 2023 and germplasm collection from 10th to 15th January 2023 at Phongmed Gewog, Trashigang Dzongkhag.
The meeting was attended by 13 participants participated by Gup, Adm and 11 farmers
 farmers consisting of 9 male and 2 female farmers representing different Chiwogs viz. Phongmed, Thongrong, Lem and Yabrang, Phimsong.
Introduction to biodiversity, agro-biodiversity, and crop diversity:
The farmer participants were first introduced to the concept of biodiversity, and agro-biodiversity and then delve down onto crop biodiversity using the pictorial power point slides. Then the farmer participants were presented with various rationales on the importance of crop diversity using the pictorial power point slides. Farmers were also informed of the trend and various developments in the global arena when it comes to crop diversity. Participants were also informed of the various efforts being put in place by the government in securing diversity in the gene bank and also maintain on-farm diversity.
2. Inventory of crop diversity being cultivated in Phongmed Gewog:
Education and awareness were followed by inventorying of crops and varietal diversity being cultivated by the farmers of Phongmed Gewog.
The on-farm crop diversity inventory revealed the existence of a total of 55 crops viz. Amaranth, Avacado, Azuki bean, Banana, Barley, Beans, Buckwheat, Canna, Cardamom, Carrot, Chayote, Chili, Chinese pepper, Chive, Colocasia, Corriander, Cucumber, Finger millet, Garlic, Ginger, Groundnut, Guava, Hazelnut, Maize, Mango, Mustard, Mustard green, Slipper gourd, Onion, Orange, Pea, Peach, Pear, Perilla, Persimmon, Plum, Pomegranate, Potato, Pomelo, Pumpkin. Quinoa, Radish, Rice, Ricebeans, Soybean, Sugarcane, Sweet potato, Tapioca, Tomato, Tree tomato, Turmeric, Turnip, Walnut, Wheat, Yam etc consisting of about 120 varieties across 55 crops.
On-farm crop diversity Inventory revealed that the cultivation trend of 19 varieties was increasing, 75 stable, and 26 decreasing.
Unfortunately, a very high number of 16 crop varieties were reported to have been lost or extinct. Asu bara, Zu bara, Yangra, Chera, Guntsung, Phenang, Yarmo, Roba badam, Namjur, Mem serbu, Kho bando, Shingkhomin, Badam zemu, Ngera bara, Asham balingmin. Gagpu balingmi etc. There are numerous reasons for the decline in cultivation trends or loss of certain crops that have been documented.
3. Germplasm collection
After enlisting the crop diversity being cultivated in Phongmed Gewog, donor farmers/custodian farmers were identified for different crops for which the seeds are currently available. Two staff stayed back and a total of 57 germplasm samples were collected for the selected crops and crop varieties from those identified donor farmers/custodian farmers from 9th to 16th January 2023. These germplasm samples will be processed following the Genebank standards.