The National Biodiversity Centre is hosting a three day Program Management Committee (PMC) Meeting for the On-farm Conservation Program at the Namgay Heritage Hotel from 8th October to 10th October 2013. The On-farm conservation Project titled "Biodiversity use and Conservation in Asia Program (BUCAP)" is supported through the South East Asia Regional Initiatives for Community Empowerment (SEARICE) based in the Philippines. It is implemented in six countries namely the Philippines, Thailand, Vietnam, Laos, Cambodia and Bhutan. Eighteen participants from the project implementing countries are taking part in the meeting.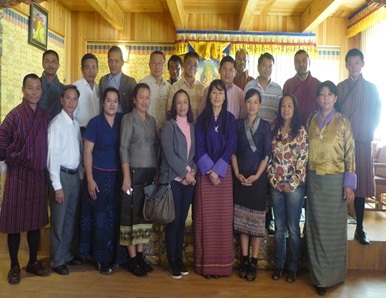 The project focus is on the conservation, development and sustainable use of our crop genetic resources in the region. In view of the fact that conservation and sustainable utilization of crop genetic resources is a collective responsibility of all the nations in the region, SEARICE is committed to strengthen cooperation among the nations in the region and enhance the institutional linkages to support on-farm conservation programs.
Throughout the implementation of this project for the last three phases spanning a decade in the country, the project has greatly benefited farmers through capacity building in seed selection and yield improvement, value addition and access to market, and enabling farmers' access to adapted varieties. It has also provided support for the capacity-building of research and extension collaborators, and project staff through trainings, workshops/ seminars and study visits.
Further, the project has played a vital role in strengthening institutional linkages between relevant institutions involved in on-farm conservation and sustainable utilization activities at national as well as regional and global forums.
The current meeting is organized to assess the project activities and accomplishments in the six countries and also to share lessons and outcomes of the project as well as to deliberate on the way forward.